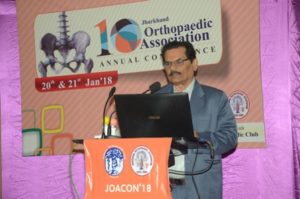 JOACON'18— the 10 th Annual Conference of Jharkhand Orthopaedic Association concluded at the 'Zaika Happenings' at Bokaro Steel in association with Bokaro Orthopaedic Club on Sunday.
This is for the second time Bokaro hosted a conference of such stature where about 90 doctors from all over the country were assimilated under one roof to refresh their skills and exchange their knowledge on the latest technological development in the field of orthopaedic surgery as well.
Aiming to consolidate their knowledge on the 'Basic Principle of Spine Fixation', a saw bone workshop was organised on the second day which was designed to cover the common surgical procedures performed during our daily practice, said Dr Ranbir Singh Programme Co-ordinator.
Several faculties of national and international fame like ex Associate Prof. Dr G Maheshwari, and Dr H. L. Nag of AIIMS, Dr. R C Meena from Jaipur, Dr S Samanta form Peerless Hospital Kolkata, Dr R Kamalliya form Apollo Hospital including others have participated in the conference.
Earlier on Saturday CEO Bokaro Steel Plant (BSL) P K Singh inaugurated the Conference.