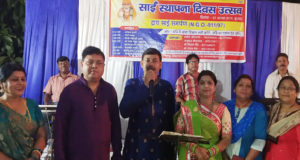 SAI temple foundation day Utsav was observed with great devotion at SAI Temple, Sector VI in Bokaro Steel City on Wednesday. To mark the occasion a grand devotional Bhajan Sandhya was organised.
Renowned artists Arun Pathak, Amarji Sinha, Gunjita Sinha and Ranjana Roy presented fascinating songs and music and enthralled the audience.
Apart from the devotional songs of SAI songs sung by Arun Pathak – 'Tora Mann Darpan Kahalaye', 'Maili Chadar Odh ke Kaise…', 'Ek Radha Ek Meera…', Maithili song 'Baba Nene Chaliyau Hamro Apan Nagari…', and other captivating devotional songs charmed the audience. Singer, Amarji Sinha mesmerized the audience with his song, 'Mati Ke Putle Re Tera Sai Bina Na Koi', 'Chalo Bulawa Aaya Hai'.
Kankar Aarti, Mangalsnana Aarti, Bhog, and Mahaprasad distribution was also the part of grand celebrations during the programme. Prominently Rakesh Srivastav, Anuradha Srivastav, A K Verma, Veena Verma, Santosh Kumar Pandey, Shambhu Jha, Gangesh Kumar Pathak, Anil Mishra, Neeraj Kumar Singh, Sanjay Sinha, Manish Pandey and other devootees made the programme a grand success.