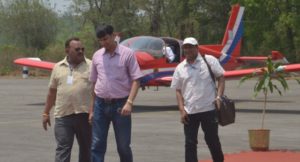 A five-member team of Airport Authority of India (AAI) inspected the Bokaro airport for starting domestic air services as well as possibilities of the expansion of the airstrip.
The AAI team compromising of Sudesh Sharma DGM (ATM), Ganpati Das DGM (OPS), Shantanu Pannikar DGM (ARCH), S D Tiwari DGM (BD) and Ganesh Sharma SM (EC) today inspected the airstrip; Bokaro DC RM P Ray was also with them.
The AAI team conducted the physical survey of the airstrip and also for the possibilities of starting the domestic air services from Bokaro, said Rai DC Bokaro. "Later team will submit a report after conducting the aerial survey of the airstrip and then air services could be starts", he added.
On the directive of Jharkhand Chief Minister Raghuber Das the AAI team conducting a survey in six cities in the state; Bokaro is one of them, said AAI official while talking with the media persons at Bokaro airport.
The possibilities to start air services will be declared after the final report", added the official.
Bokaro Steel City is committed to beautifying the green growing city which is emerging into an 'Industrial' and 'Educational' hub with several new projects.