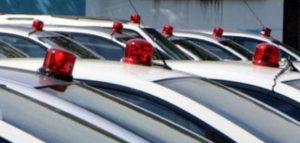 The government decided on Wednesday to ban red beacons atop cars of all ministers, politicians and bureaucrats, ending a privilege that was seen as the ultimate status symbol.
The ban, effective from May 1, doesn't exempt even vehicles of the country's top dignitaries of India.
But ambulances and vehicles of the fire service, police, and army will be allowed to use blue flashing beacons to cut through traffic.
About six categories of beacons — primarily red, blue and yellow — are in use in India. But the red has been drawing maximum attention as an elitist VIP symbol since the British rulers introduced it.
The decision was taken at a meeting of road transport officials with the prime minister's office on April 15. The Prime Minister informed his cabinet about the move on Wednesday.
"We have decided to remove the clause from the Central Motor Vehicles Rules, 1989, that gave the Centre and states the power to decide who should be allowed to display red beacons. The road ministry will shortly notify the amended rules," finance minister Arun Jaitley said.