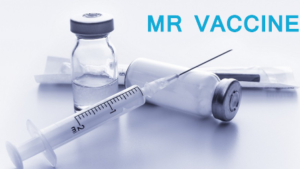 Bokaro : The anti-measles-rubella (MR) immunisation campaign is in full swing across Bokaro district. The Civil Surgeon Bokaro S Murmu appealed, 'Parents please do not send your kid empty stomach for MR vaccination'.
"As some children might complain about nausea and headache, so please made it sure that kid has taken breakfast of lunch before vaccination," he added.
Aiming to eliminate measles and control congenital rubella syndrome (CRS) the district health department launched anti-measles-rubella (MR) immunisation campaign on 26 June.  The vaccines are available on all schools and anganbari centres across the district, he said.
A Raj the state co-ordinator of UNICEF appealed to the mass, especially parents, to have their children between the age group of 9 months to 15 years vaccinated. "Vaccination is being done in all anganbari centres, schools as well as health and community centres free-of-cost," he added.
Our aim is to eradicate the virus of the fatal disease, which could be dangerous for the children, said Dr Uttam Kumar Nodal Officer of MR vaccination campaign. "Bokaro district would lead the state in achieving the targets under the anti-measles-rubella immunisation campaign," he added.
Actually, MR is a viral infection that causes a red rash on the body. Aside from the rash, people usually have a fever and swollen lymph nodes. The infection can spread from person to person through contact with droplets from an infected person's sneeze or cough; traced only at a later stage, he said.
This means one can get the infection if he touches his mouth, nose, or eyes after touching something that has droplets from an infected person on it. One may also get the infection by sharing food or drinks with someone who is infected, he said.
The symptoms are pink or red rash that begins on the face and then spreads downward to the rest of the body, mild fever (usually under 102°F), swollen and tender lymph nodes, runny or stuffy nose, headache, muscle pain, inflamed or red eyes, said Kumar.
"In order to prevent the problem, vaccination is the only way," added Kumar.
Our goal is to accelerate population immunity by reaching 100 percent target children with MR vaccine that will reduce cases and deaths from measles and disabilities from congenital rubella syndrome (CRS), he said.