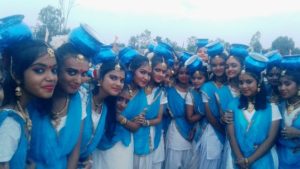 The team of DPS Bokaro made it to the Guinness Book of World Records by performing in the World Record Breaking Dance— 'Rain Dance' at Chennai.
DPS, Bokaro team was the only team from North India invited to the record-breaking dance on 2 December, the school authority said.
The team of 23 students led by G. Nataraja Parameswaran, escort teachers E. Sharmila, Rachna Ojha were selected for the event. The participants were with the participants  Swarnim Megha, Khushi Raj, Saloni Agarwal, Amrita Prasad, Samridhi Srivastava, Priyasha Parul, Sujain Koomar, Arya, Shruti Shreya, Isha, Tanya Bhardwaj, Jigyasa Jha, Shambhavi Kashyap, Ayushi Shandilya, Anshika Mallick, Shreya, Shurti Suman, Aparajita Sambhaw, Rimjhim Verma, Tasmai Mandal, Shruti Singh, Srishti Mishra and Shiksha Pandey, said the authority.
Guinness World Records certified D. Sowmya Rajesh of Niruthia Nithyalaya Institute of Fine Arts for the most people performing a rain dance at Saveetha University, Chennai, he said.
D. Sowmya Rajesh of Niruthia Nithyalaya Institute of Fine Arts in association with Saveetha University Chennai organized the largest dance for rain, in an event – 'Bharatha Mazhai 5050' wherein, 5,541 people participated and registered their name in the Guinness Book of World Record and Asia Book of Record in a Mass Attempt of dancing together at one go in Bharatnatyam, school PR official informed.
Dr. Hemlata S Mohan, Director and Principal of the DPS, Bokaro expressed her happiness on the unique achievement and congratulated the team for the World Record. She said that DPS, Bokaro always believes in holistic education and provides the opportunity to all to excel in their field of interest.