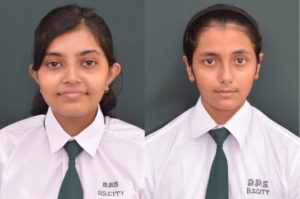 Two Bokaro students have been invited by the Government of India to witness the prestigious Republic Day parade from the Prime Minister's box at Rajpath, New Delhi, School authority informed.
Two students of DPS Bokaro, Shivangi Singh (98% the State Topper) and Ishani Srivastava (97.80%) being toppers of AISSCE-2017 have been selected for Republic Day Parade, on 26 January 2018. This invitation is given to toppers of AISSCE every year by the Government of India. The school authority informed that this information has been received by the school from Regional Office, Patna.
Elated, Director and Principal, DPS, Bokaro, Dr. Hemlata S Mohan congratulated both Shivangi Singh and Ishani Srivastava. She remarked that it is a matter of immense pride that our Dipsites have been invited on this glorious occasion. She said that it is because of their excellent performance and perseverance that they have got this opportunity and they are the sources of inspiration for the upcoming students.