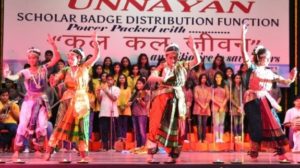 'Unnyan'— a special day for the school to reward the academic brilliance of its students was celebrated with zest, vibrancy and elation at Delhi Public School Bokaro on Saturday.
As many as 805 students were awarded certificates, badges and gold medals for exceptional performance in the academic year 2016-17.
Prabhat Kumar, (IPS) DIG Police, Coal Range, Bokaro was the Chief Guest on the occasion and N.C. Pandey, Asset Manager, ONGC, Bokaro graced the event as Guest of Honour as also N. Muralidharan, Pro-Vice Chairman, DPS Chas other dignitaries were present in the programme.
Speaking on the occasion Prabhat Kumar expressed his happiness and pride to be associated with DPS, Bokaro as one of the best schools in the country. He remarked that this was once in a lifetime opportunity. He congratulated all the parents, in particular, apart from the students and teachers for putting in the real efforts that made the students achieve awards for their academic brilliance.
Quoting his own example on failure, DIG said that many more challenges are yet to come in everyone's life and failures is a part of it, so it is important to control the nerves and work hard for getting success and overcoming the setback. He also urged the students to enjoy the present moment to its fullest and try to become a good human being.
Giving all credit to the leadership of Dr. Hemlata S Mohan the Director and Principal of the school, and her perfectionist attitude for the success and glory the school has achieved so far, he expressed his speechlessness on the excellence attained by the school.
An array of talent was exhibited in the warm pleasant morning in the form of vibrant songs, music and colorful dances. The presentation of cultural programme was in three segments- the Culture, the Awakening and the Creativity.
Dr. Mohan updated the gathering with the annual report highlighting the achievements of the school and the students and later presented mementoes to the Guests.
Sweaters were distributed to students of Deepansh Shiksha Kendra and Certificates to the women of Koshish.
EoM