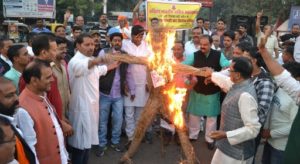 Protest against Bollywood movie 'Padmavati' reached Bokaro district in Jharkhand, on Sunday. Hundreds of members of BJP youth wing along with Rajput Yuva Sangh and other groups staged a protest at different locations in Bokaro. The agitators burn the effigy of the film director Sanjay Leela Bhansali at Sector 4 and Naya More.
The BJP youth wing General Secretary Kunj Bihari demanded from the government that the movie should not be released here. Meanwhile, the other group of protestors threatened not to allow the movie show at Bokaro PVR or other cinema halls. Movie Padmavati is scheduled to be released on 1 December.
Bhansali has tried to distort the history of the country through this movie 'Padmavati', alleged Bihari. "The film will depict a romantic relationship between Padmavati and an invading king, Alauddin Khilji, who is Muslim", he added.
We will not allow anyone to tamper with our history, said Bihari.
Navin Singh, the member of Rajput Yuva Sangh said that certain scenes involving 'Padmavati' have deeply hurt our culture and the values of the Hindus. "The scenes which are objectionable and not resemble our culture (Indian) need to be deleted before its release", added Navin.
We will continue our protests across the district as well as state till it will not ensure that Sanjay Leela Bhansali's upcoming film is not released in the state. Very soon our delegation will meet the Governor and the chief minister to demand that the movie should not be released here, he said.
The film, starring Deepika Padukone as Padmavati, Shahid Kapoor as Maharawal Ratan Singh and Ranveer Singh as Alauddin Khilji, has triggered protests in different parts of the country, especially in Rajasthan.