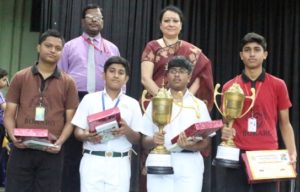 DPS, Bokaro students clinched the top positions in 'Bharat Ko Jano Quiz' Competition organized by Bharat Vikash Parishad on 8th October 2017 in both Senior and Junior groups respectively.
The teams became winners against 20 teams from the different schools that participated in the competition, informed a school authority adding "the competition was held in six rounds. The questions comprised from Indian Heritage, Traditions, Indian Languages, dances, mythology with current affairs".
The winners in the junior category include Rishi Divya Kirti and Ritankar Bhattacharya from Class VIII while Deepanshu Kumar and Harshit Mania student of Class IX wins in the senior category; the team was escorted by P. C. Pandey, he said.
Dr. Hemlata S. Mohan, Director and Principal, DPS, Bokaro congratulated the winners and wished the best for their future.