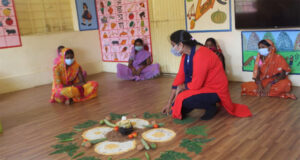 Bokaro: Vedanta-Electrosteel Steels Limited (ESL) has already completed the conversion of 50 Anganwadis into Nand Ghars in Chas and Chandankiyari Block of Bokaro District.
The Nand Ghar infrastructure is being utilised for providing facilities in the verticals of education, nutrition, water purifiers, and skill development for women and youth. Humana People to People India (HPPI) has been finalized as the O&M (Operations and Maintenance) Partner to drive these verticals.
Nand Ghar or Modern Anganwadis are a model resource center for the community and are in line with Prime Minister's flagship schemes: 'Beti Bachao Beti Padhao' and 'Startup India'. Nand Ghars are well-equipped with state-of-the-art technology and infrastructure. On average, this project will be benefitting 4000+ beneficiaries including children up to six years of age, lactating mothers and pregnant ladies. There are plans to expand its outreach by touching the lives of youth in the future.
Speaking on the occasion, Pankaj Malhan, CEO, ESL said, "Through our Nand Ghar project, we aim to re-build Anganwadis for ensuring quality health and children education in rural areas and create a platform for women's empowerment and skilling. We wish to take this project forward by converting 100 more Aanganwadis into Nand Ghars."
ESL has started the second phase of conversion of 100 more Anganwadis into Nand Ghars under its flagship social community project. Vedanta's flagship project is committed to the national vision of eradication of child malnutrition, provision of education, healthcare and women empowerment with skill development.
"The Nand Ghars will function as education and health center for children in the morning and as skill development training centers for women in the second half.  Nand Ghar has added benefits such as round the clock electricity through Solar panels, e-learning via LED TV and primary healthcare through mobile medical units," said Ritu Jhingon, CEO Nand Ghar.
Vedanta's Nand Ghar project is one of the largest community investment projects implemented by any corporate in India.  It has also been conferred with many awards for 'Best CSR Practices'.