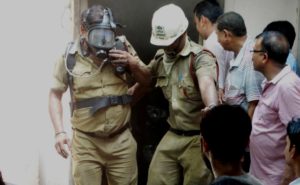 A major fire broke out in State Banke of India Main Branch at City Center under Sector 4 police station, in Bokaro Steel City on Sunday early morning, triggering panic though none were reported injured.
The fire broke out in the main branch of the bank fully engulfed the department of loan section while partially others, said Pranav Sekhar SBI official.  According to an eyewitness, the blaze erupted in the bank at around 7.30 am. After the fire, smoke soon spread inside the building. Thick smoke covered the entire building causing suffocation to the firefighters.
The fire tenders succeeded in dousing the fire, after a long struggle of four hours. "More than four firefighting vehicles, fire tenders and hundreds of local peoples were joined hands for the rescue", said an eyewitness.
The fire destroyed several official goods including documents, furniture, computers and other gadgets, said an eyewitness. According to the fire tenders, fire engulfed the goods of the worth of several lakhs rupees.
Meanwhile, bank officials blaming reason of 'short circuit' (electric) behind the eruption of fire but sources alleged that there was a matter of misappropriation of funds; "fire was resulted to hid the issue", added sources.
"We are probing the reasons behind the eruption of fire, said an official. 'Right now its' quite difficult to access the actual loss but it may assume in lakhs", he added.
The district administration issued a phone no. – 9431104355 for any kind of help.
Bokaro Deputy Commissioner Rai MP Ray along with SP Y S Ramesh, City DSP Ajay Kumar, Disaster management officer Shakti Kumar and Bokaro MLA were present there.