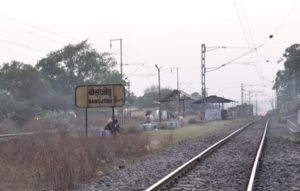 The Railways today announced that the movement on Dhanbad-Chandrapura Railway line will be completely closed from June 15 due to underground inferno and land subsidence in Jharia and Raniganj Coal Field area.
"Movement of at least 13 Mail-Express trains and six passenger trains will be permanently stopped, while 7 trains will be run on diverted lines," said DRM, Dhanbad  Manoj Kumar Akhori during a press conference in Dhanbad on Monday.
The trains which will run through diverted route are Howrah-Ranchi Shatabdi Express, Maurya Express, Dhanbad-Alleppey Express, Shaktipunj Express, Patliputra Express, Dumka-Ranchi and Dhanbad Intercity.
The movement of Mail-Express trains which are scheduled to be closed is Vananchal Express, Ranchi-Jaynagar Express, Ranchi-Howrah Intercity, Garib Rath, Ranchi – Bhagalpur, Ranchi-Kamakhya, Darbhanga – Sikendrabad, Ranchi-Newjalpaiguri, Hyderabad – Raxaul Express, Bhopal- Howrah, Kolkata -Ahmedabad, Kolkata – Ajmer and Surat-Malda, he informed.
The passenger trains Muri – Dhanbad, Chandrapura – Bhojudih, Bokaro – Howrah, Ranchi -Dhanbad, Chandrapura – Dhanbad and Jhargram  -Dhanbad will be closed from 15 June, he added.
The decision to close Dhanbad-Chandrapura Railway line will create huge revenue loss to East Central Railways. There will an estimated loss of Rs 2625 crore, said the DRM. Closure of line will also hit the transportation of 13 MT coal to BCCL while 12 MT to ECL a revenue loss of 2500 crore rupees, he added.
Considering the Director General of Mines Safety's (DGMS) report Ministry of Railway has issued a directive to the concerned railway officials stating that "Board has decided to stop operation of passenger and goods trains on Dhanbad –Chandrapura Railway line with effect from 15 June.  Senior DCM Ashish Kumar Jha and Senior DOM Sanjay Kumar were present on the occasion.