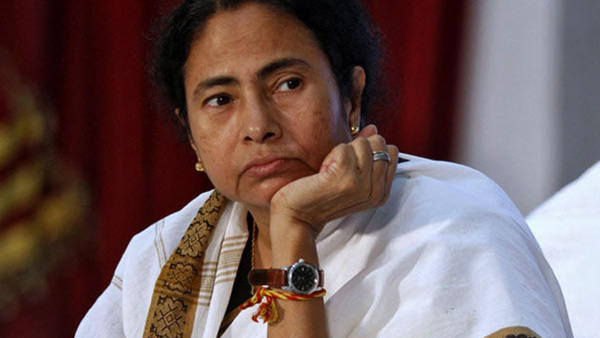 Mamata Banerjee demanded arrest of PM Narendra Modi and Amit Shah in Godhara case, soon after the arrest of Trinamool's Lok Sabha leader Sudip Bandopadhyay by CBI in a chit fund scam. BJP central party office of Bengal at Murli Dhar Street was attacked by Trinamool workers. Bandopadhyay is MP of North Kolkata and the BJP head office is in his constituency.
Mamata reacting to arrest of Sudip Bandopadhyay, whom she described "a senior politician" said that she was shocked to hear that he was arrested. She said that it is harmful for the nation if Modi is allowed to stay out. She mentioned about the Godhra riot, in which Modi was accused.
She said that people of India will not give Modi a free run. "The country's damage will be on till Modi is arrested. Modi and Shah were involved in rioting. so they must be arrested. Modi wears dress of crores. From where the money comes?"
She said that she was challenging Modi, that the voice of the people cannot be gagged, as she was voicing against demonetisation her leaders were aimed. She said that there will be protest in front of RBI on January 9. Mamata said that the arrest was another example of political vendetta.She hoped that Sudip da will remain healthy in custody. The MP will be ferried to Bhubaneswar on Tuesday night.
She said Modi has lost his cool. "Can Modi arrest Adani?" She alleged Adani got much undue favour from Modi government.
Bengal CM said that ED and CBI officials had told her next in line to be arrested are Trinamool leaders -Abhishek Banerjee, Sovan Chatterjee, Suvendu Adhikary, Firhad Hakim. I know many of the CBI and ED officials."
Mamata said that the Trinamool will fight the battle legally. But the CBI and ED are also involved in threatening the lawyers also. "Even they tell the judiciary not to give relief."
Mamata said that BJP leaders are also involved in Rose Valley scam. She said "BJP leaders are thieves and dacoits and they are running a parallel economy. As I had been involved in protests against demonetisation, so Modi is targetting my leaders. He can arrest me, my family, all my MLAs."