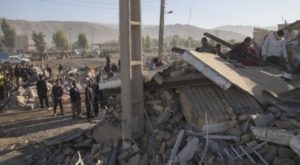 Over 400 people were killed and thousands injured after a powerful earthquake struck near the border of Iran and Iraq on Sunday night.
According to the media reports, The 7.3-magnitude tremble had its epicentre in Penjwin, Sulaimaniyan Province, in the Kurdistan region of Iraq. The earthquake is the deadliest of the year, recorded at 9:18 p.m. on Sunday, was felt as far away as Turkey and Pakistan.
Many people would have been at home when the quake hit in Iran's western Province of Kermanshah, about 15 km from the Iraq border, where authorities said it killed at least 407 people and injured 6,700. Meanwhile,  Iranian state television said the quake had caused heavy damage in some villages where houses were made of earthen bricks. Rescuers were labouring to find survivors trapped under collapsed buildings.
Residents of Turkey's southeastern city of Diyarbakir also reported feeling a strong tremor, but there were no immediate reports of damage or casualties there.
Israeli media said the quake was felt in many parts of Israel as well.