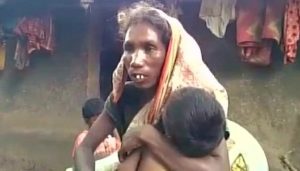 An eleven-year-old girl died in Jharkhand's Simdega district last month, allegedly due to non-availability of ration, her family member had been removed from the state's public distribution system because their Aadhaar cards were not linked to the new list issued by the government.
At Karimati in Simdega's Jaldega block, this is the only fact that everyone agrees upon — the family, their neighbours, panchayat members, even local officials. The girl's family insists that she died because of lack of food while other residents, the local medical practitioner, and district officials say she died due to malaria.
According to the media report, Koyli Devi, mother of Santoshi Kumari who died on September 28, said she and two other members of her family had Aadhaar cards since 2013. "We had gone to the PDS shop at Patiamba, about 5 km away, some seven-eight months ago. They told us that our names were not on the list. We did not go there again," she said.
Meanwhile, the former Chief Minister Hemant Soren has demanded CBI inquiry into the hunger death of the teen girl as the family was not given ration since July for not having Aadhaar number seeded to their bank account. Talking to media persons at his official residence, Soren alleged that people were dying of hunger, old age pension has been stopped, scholarship of poor students has been decreased and the State was busy in selling liquor.
Soren also demanded action against Chief Secretary Rajbala Verma, who, he said, had passed an order through video conferencing to remove the names of the families having not linked their Ration Cards with their Aadhaar number.
On Wednesday the Union food minister Ram Vilas Paswan on Wednesday said a central team would be sent to Jharkhand to probe the heart-numbing case, although the state government officials maintained that the girl died due to malaria and not starvation. "If poor people die of hunger, it is a matter of concern. We will send a central probe team," Paswan told reporters in the national capital. He added that the state had been asked to submit a report at the earliest on the "hunger" death. After receiving severe criticism for the "starvation" death, the state food and civil supplies department on Wednesday issued a fresh advisory asking official to verify whether any genuinely needy family was denied foodgrain for lack of Aadhaar linkage.
Taking tough the Jharkhand chief minister Raghubar Das asked the administration to provide Rs 50,000 to the family of the deceased girl as interim relief, and asked the deputy commissioner to conduct a probe and take action against anyone found guilty.