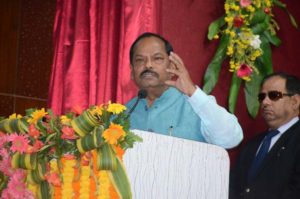 Chief Minister Raghubar Das has said that Jharkhand would soon become a 'medical hub' which not only will provide medical facilities but also lots of job opportunities to the masses.
"Our Government is on move. Medical Tourism will be promoted in the State," said the Chief Minister while unveiling Asian Dwarkadas Jalan Super Specialty Hospital in Dhanbad on Friday.
He also added courses in the three new medical colleges coming up at Palamu, Dumka and Hazaribag will begin in this session. Six new nursing colleges are going to be opened by the Government, he said.
"Three more medical colleges at Bokaro, Chaibasa and Koderma are in pipeline. Tata Trust's cancer hospital will start soon in Ranchi. Manipal Group Medical College will be opened at Bokaro and Jamshedpur," added the CM.
"We have also planned to open medical colleges under Public Private Partnership (PPP) mode. Our Government will encourage those who open medical colleges under PPP mode. With the opening of 100 seats medical college, Rs 30 crore grants will be given to them by the State Government," said Das.
He also added that the Government is working to provide employment to girls of the State through six new nursing colleges coming up in near future.
Asian Dwarkadas Jalan Super Specialty Hospital is a 100-bedded hospital equipped with a wide range of latest technology and high-end equipment to complement the rich experience and expertise of the doctors in their process of diagnosis and treatment.
This is the first super speciality hospital in Dhanbad and is an auxiliary wing of Asian Institute of Medical Sciences in Faridabad and managed by Asian Group of Hospitals.
This super speciality hospital has been developed to cater the intrinsic healthcare needs of the entire region including parts of its neighbouring states like Bihar, Odisha and West Bengal.
The CM also mentioned about health insurance provided under Prime Minister Swasthya Bima Yojna. "Over 57 lakh families are been tagged with the premier health insurance scheme in the State which would help even poorest of poor to get quality medical aide in best hospitals of the country. Now on longer poverty would come in their way. The Government is committed to eliminate poverty which has been sticking to Jharkhand for long," said the CM.