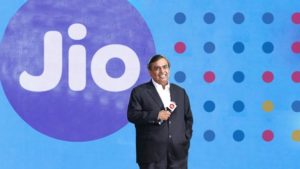 Reliance Industries Limited (RIL) on Monday released its report on Q3 (FY 2016-17) Financial and Operational Performance – specifically the quarter ending on December 31, 2016. The company had some interesting statistics to reveal, such as the latest Reliance Jio subscriber figures, as well as quarterly sales figures of its Lyf-branded smartphones.
Detailing Reliance Jio Infocomm's subscription figures, RIL said that in less than four months since the commencement of services on September 5, it had reached 72.4 million subscribers as of December 31. To recall, Reliance Jio had crossed the 50-million subscriber milestone in just 83 days since launch back in November – adding an average of 600,000 subscribers a day. Back in October, RIL Chairman Mukesh Ambani had said that Reliance Jio had a target of 100 million subscribers "in the shortest possible time" – and it looks to be on track.
"This level of growth has been unprecedented on any mobile network anywhere in the world, and is a testimony to the comprehensive digital ecosystem that Jio has created and its promise of enabling millions of Indians to add value to their daily lives. Jio continues to transform the industry paradigm by revolutionising the customer journey from on-boarding to usage by offering services and applications which have substantially enhanced customer experience," RIL said in its press release.
RIL also mentioned that its long-contested points of interconnection (POI) issue with other telecom operators had yet to be settled, and that it was still facing interconnection congestion issues. "The POI capacity provided by these operators is still way below requirement and is falling short of the customer addition pace of Jio, resulting in quality of service issues for Indian customers. The resultant call failure rates continue to be of the order of 175 calls failing out of every 1,000 calls from Jio to Airtel network when the QoS regulations mandate that no more than 5 calls out of every 1,000 calls can fail. Indian customers are still being denied the benefits of superior voice technology on Jio's state-of-the-art network."
Finally, detailing the quarterly Lyf-brand smartphone sales figures, the company said Reliance Retail's device distribution business sold 2.8 million Lyf devices and accessories during the quarter.