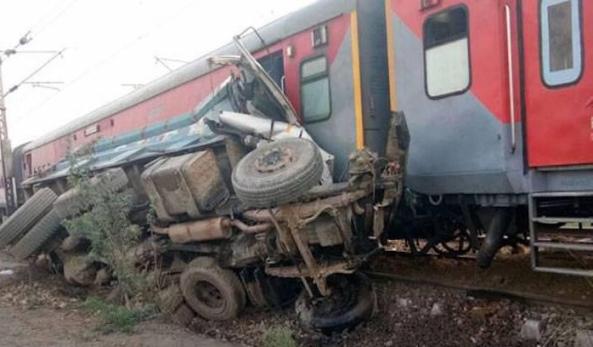 The second train derailed in last three days in Uttar Pradesh, on Saturday-Sunday intervening night, Utkal Express had derailed in Muzaffarnagar district of Uttar Pradesh, killing 22 passengers and injuring 156. On Tuesday engine and five coaches of Kaifiyat Express derailed near Auraiyya district of UP, injuring more than 50 passengers, police said on Wednesday.
Suresh Prabhu offers to quit, but Modi says 'wait'
The accident occurred at 2.40 a.m. when the train hit a dumper at a crossing between Acahlada and Pata villages, derailing B2, H1, A1, A2 and S10 coaches.
Kaifiyat Express, travelling from Azamgarh in Uttar Pradesh to Delhi, collided with a dumper at around 2:40 am between Pata and Achhalda railway stations, derailing B2, H1, A1, A2 and S10 coaches and resulted in injury to 50 passengers, said Anil Saxena Railway spokesperson.
"Seven trains have been cancelled and five have been diverted," an official said. A district administration official informed that rescue was underway and they were focussing on ensuring that the trapped passengers are given medical aid immediately.
Senior railway ministry officials along with National Disaster Response Force (NDRF) and a medical train have rushed to the site to carry out rescue operations and provide support to the victims.
Railway Minister Suresh Prabhu offered his resignation on Wednesday owning "full moral responsibility" for recent train accidents, even as Air India Chairman and Managing Director (CMD) Ashwani Lohani became the new Railway Board Chairman in place of A.K. Mital.
"I am extremely pained by the unfortunate accidents, injuries to passengers and loss of precious lives. It has caused me deep anguish. I met Prime Minister Narendra Modi taking full moral responsibility. Honourable PM has asked me to wait," Mr. Prabhu said in a series of tweets, indicating his resignation is yet to be accepted by the Prime Minister.