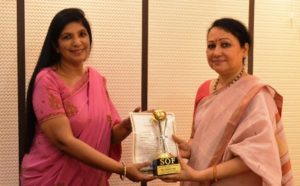 Pratima Sinha the Headmistress of Delhi Public School, Bokaro has been awarded Best Teacher in Jharkhand Zone 2016-17 by Science Olympiad Foundation (SOF), New Delhi.
All total 42800 schools from over 1400 cities spread across 25 countries had appeared in the world's biggest Olympiad Exams conducted by SOF. Every year SOF, New Delhi conducts NCO and the students of DPS, Bokaro have been performing exemplary well, school authority informed.
The award has been given in recognition of outstanding performance of DPS Bokaro in the SOF's National Cyber Olympiad (NCO) exam conducted during 2016-17. She received a certificate, citation and a trophy on Tuesday, he informed.
Dr. Hemlata S. Mohan, the Director and Principal of the school congratulated the headmistress and said this is the result of team work and efforts put in by the students and the teachers as a whole.