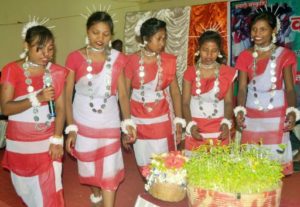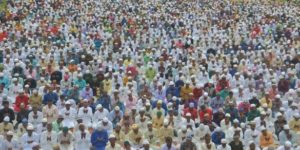 With traditional fervour and devotion, thousands of devotees took part in the 'Bakrid' (Eid-ul-Azha) and 'Karma' celebrations in the twin cities Dhanbad-Bokaro on Saturday. Amidst intensive security, no untoward incidents were reported during the celebrations.
The tribals across the Coal and Steel City of Dhanbad-Bokaro celebrated 'Karma' festival, with traditional fanfare and gaiety. Karma is one of the most popular festivals celebrated by the Oraon, Baiga, Binjhwari and Majhwar tribes of Jharkhand, Chhattisgarh, Bihar and Madhya Pradesh.
Since the entire economy of the tribals dependent on land, water and forest, trees that sustain the environment must be worshiped, said Laxmi a tribal girl residing at Bokaro.
On this day we (tribals) go in the forest to collect fruits and flowers, and worship Karma Devi, a goddess who is represented with a branch of Karam tree", she added.
The branches of the tree are worshiped and their blessings soughed as per the mythology of Karam Devi, she is the goddess of wealth and children, said Maiyan another devotee.
Actually the word 'Karma' is derived from the name of a tree Karam; the branch of the Karam  tree  is  carried by the dancers and  is  passed  among  them with  singing  and  dancing during, she said.
During celebration branch of Karam tree is first washed with milk and then rice beer (Handia) and later raised in the middle of the dancing area, said Anand Mahato.
Tribals used to dance for the whole night in a bid to admire the 'Karam' Goddess; with planting a trees ritual starts on this eve while dancers (worshipers) form a circle and dance with their arms around each other dancer's waists, Mahato said.
The branches are garlanded by worshipers on the next day. Karma Dance is also one of the oldest dances performed by many ethnic groups of the country.
Meanwhile, Muslims thronged the mosques to offered special Eid prayers. Men, women, and children dressed in their new attire arrived to offer the special prayers on this eve.
The special prayer session was conducted at several mosques in Dhanbad and Bokaro. Addressing to the gathering the religious heads asked for peace and also of the relevance of sharing and support to each other. After the prayers, the sacrificial meat was distributed among them.
Ahead of festivities, security was enhanced at every nook across the twin cities to nab the unsocial elements found in involved in any mischievous actions. Police also embarked upon conducting checking of two and four wheeler's with the help of metal detectors in duo cities.