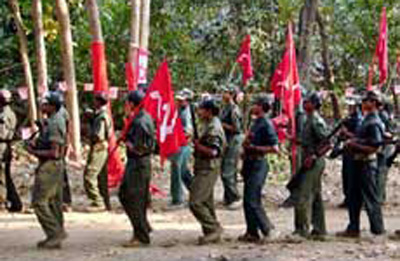 A hardcore Maoists Supaye Tuddu (30) was killed in an encounter at Putu jungle in rebel-infested Ghorabandha police station area of Ghatshila sub-division early Tuesday morning.
According to information security personnel of Jharkhand Jaguar and district police carried out an anti-insurgency operation in Ghorabandha at about 6 am, when an encounter took place with the rebels that led to Tuddu's death.
Tuddu's wife Sonali (27) who is also a naxal was caught by the police. The police have recovered two fire-arms, both 9 MM pistols from the spot of encounter.
Soon after the encounter, director general of police, Jharkhand, DK Pandey, additional director general (Operation) RK Mallik and Anurag Gupta, ADG (Special Branch) visited the spot.
East Singhbhum, senior superintendent of police Anoop T Mathew and SP (Rural) Shailendra Burnwal also had been to the Putu jungle where the encounter took place.
According to information, Tuddu was zonal commander of CPI-Maoist Ghurabandha zone and was wanted in connection with 27 naxal-related cases in East Singhbhum district only.
Moreover, he was wanted by Bengal and Odisha police in connection with the naxal-related cases registered there. He was carrying a reward of Rs 15 lakh on his head by the state police. While his wife Sonali Tuddu was wanted in as many as 10 cases by the East Singhbhum district police.