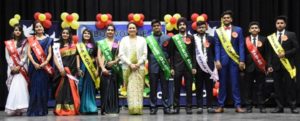 An emotional and heart pouring evening at DPS Bokaro saw a gathering of Teachers, Students and Staff of the school to say, 'Bon Voyage' to the outgoing students of Class XII (2017-18 Batch) at the grand farewell function here on Monday. The day was a fiesta devoted to the years spent together with friends and teachers to reminisce joyous moments.
On this occasion, while addressing the students the Director and Principal, Dr. Hemlata S. Mohan wished them a bright and happy future. She reaffirmed her faith that the students will carry on the legacy of the school and make positive contributions to the society and country at large as true citizens with the motto of 'Service before Self'. She inspired the students with the school philosophy 'Respect & Responsibility'. She also expressed her hope that students will listen to their inner voice, choose a career of interest and grow to hold top positions in all the future endeavors.
The Ashwaghosh Hall was festooned with gold and shining stars and dazzling lights was set ablaze with a ramp walk and self-introduction by class XII students. The judges put various questions and the students replied to them well. Class XI students presented a scintillating dance performance and the pulsating music rocked the ambience and the air was charged with excitement as the results were declared.
In a nostalgic and reminiscent speech, school Head Boy Pratyush Kumar Shandilya and Harmeet Singh Saluja and Head Girl Shalu Agarwal and Ramsha Naushad recollected their life's best moments in the school as students, the various ups and downs and stressed on the importance of school life in shaping one's career. They thanked the teachers for their endearing efforts in shaping their destiny. The wonderful event ended with the distribution of mementoes.