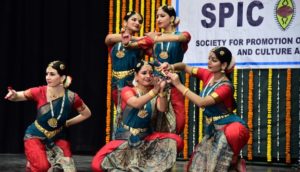 DPS Bokaro promoting the priceless cultural heritage rooted in Indian Culture and Traditions organized another edition of SPICMACAY- 2017 (Society for Promotion of Indian Classical Music and Culture amongst Youth) at Ashwaghosh Kala Bhawan on Tuesday.
"Its a token gift on the special occasion of Children's Day" said Dr. Hemlata S. Mohan, the Director & Principal, DPS, Bokaro
Padmabhushan, Dr. Saroja Vaidyanathan, Bharatnatyam Dance Guru and disciple of the accomplished Guru Lalitha of Saraswathi Gana Nilayam, Chennai and the third-generation disciple of the famous Guru Kattumanar Muthukumaran Pillai presented the dance of Lord Shiva and Dance on Swaranjali with her disciples.
She then spoke about the beauty of India, which lies in her 'Unity in Diversity'. She also presented the 'Navrsas' and the different 'Taals' in the different dance forms like Bharatnatyam, Kathakali, Kucchipudi and Kathak. The stage was shared by the DPS, Bokaro dance teachers including Nirmalaya Sharma for Kathak, G N Parameswaran for Kucchipudi, Saurav Chatterjee for Kathakali and Sweety for Bharatnayam. The performance was supported by the music teacher Vicky Anand Pathak, Bhaskar Ranjan Dey on Tabla and. Nimesh Rathore on Mridangam.
While talking to the students Dr. Saroja said that the Dance form is often famed as poetry in motion. It is a dance that is the composition of science and art ties up three elements: sentiments, melody, and rhythm. She said that Bharatnatyam consists of three branches: Abhinaya, Nritta, Nritya. Abhinaya is the art of storytelling in the dance where dancer performs with the hand gesture to convey some specific expression. Nritta is pure dance movements reflecting different timing of universe. Usually, it performs in the opening of dance. The last one is Nritya, which is the combination of both dance movements and acting (abhinaya).
Dr. Hemlata S Mohan, Secretary for SPICMACAY Jharkhand State Chapter, felicitated the artists. She expressed her gratitude towards SPICMACAY for the upliftment of Indian music and the cultural plethora. She had all praise for Indian Classical music stating that it is pure and powerful. She reminded the students that they were privileged to be the audience to a large number of musical maestros, being invited regularly by SPICMACAY, and as such, they should cherish these moments.
Earlier in the day, a special assembly was conducted to mark the 'Children's Day' celebrations where the teachers performed the role of the students. They read out the 'Thought for the day', 'News for the Day' and spoke on the significance of the day and conducted the morning assembly as well.