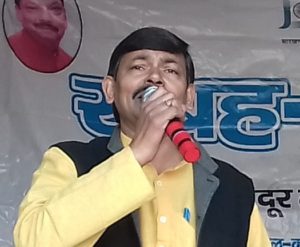 Spreading the musical vibrance along with spiritual hymn Arun Pathak, a singer, enthralled the audience in a programme at ITI More Chas in Bokaro on Saturday. The popular weekly programme, 'Subah Savere' was organised by Tourism, Art and Culture Department Government of Jhakhand.
Pathak began the programme with popular Bhajan 'Vaishanav Jan Ko Tene Kahiye' which was much appreciated by the audience. Followed by devotional songs 'Maili Chadar Odha Ke Kaise Dwar Tumhare Aawon', 'Tora Mann Darpan Kahalaye', 'Puja Ke Hetu Shankar Aayal Chi Hum Pujari' accompanied by Rakesh Kumar Singh on Dholak, Rajendra on Synthesizer, Manoj Kumar on Octapad.
The programme concluded with the Gandhiji's most popular song, 'Raghupati Raghav Raja Ram'.