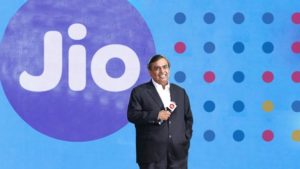 Reliance Jio has crossed the 100 million customer mark since its launch on 5 September 2015, said Mukesh Ambani Chairman and Managing Director Reliance Industries (RIL) .  "This achievement is of India and Indians," he added.
He said that on an average Jio added seven customers on its network every second. "This is an unprecedented level of acceptance of any technology company anywhere in the world."
Ambani said that prior to the launch of Reliance Jio, India was ranked 150th in terms of data penetration. It was now at number one. "Last month Jio users have consumed 100 crore gigabytes of data. India is number one today in terms of mobile data usage."
Ambani said by the end of 2017, 99 per cent of the country's population will be covered by the network with its presence in nearly all cities, towns and villages.  He pointed out that the company has doubled its 4G stations as compared to its competitors. Announcing free user benefits for another 12 months under a cost-effective membership plan, Jio's latest offerings are expected to stiffen the competition further in the telecom sector.
"Under Jio prime membership plan, the users can become members for a full year for a nominal one-time fee of Rs 99. Enrolment will start from March 1 and will remain open till March 31. They would continue enjoying the unlimited benefits for another 12 months," he said.
Post-March 2018, Jio prime members would be able to avail the same benefits for another year at Rs 303 per month tariff plan, he added.
Apart from that, he said the company will start offering tariff plans starting April 1 for people who do not opt for the prime membership plan.
"We will start offering tariff plans starting April 1. Calls to all networks, roaming will remain free after April 1," he added.
Ambani also vowed to match the tariff data plans of its competitors with 20 per cent more data.