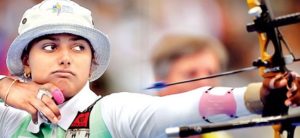 Arjuna award-winning archer Deepika Kumari announced that she would be a TB Ambassador for the state of Jharkhand. "I am happy to join the fight against TB in Jharkhand and to work with the TB Programme and REACH. The stigma associated with the disease affects everyone, especially women. There are so many stories of women with TB who have been thrown out of their families. We must stop isolating people with TB. I know that if all of us speak up to Stop TB, before the next Olympics in 2020, we will be closer to our dream of a TB-free Jharkhand and a TB-free India," she said.
TB is the oldest disease in the world and yet we haven't been able to eradicate it. This is now the goal and vision of our Prime Minister, and I must congratulate all of you, on behalf of the Jharkhand government, for working towards making this possible," said Ramchandra Chandravanshi, Minister of Health, Medical Education and Family Welfare at the launch of the Tuberculosis (TB) Call to Action Project in the state, held here on Tuesday. The TB Call to Action project is being implemented by REACH with support from the United States Agency for International Development (USAID).
Ranchi MP Ram Tahal Chaudhary called on all stakeholders, including other parliamentarians and elected corporators, to get involved in the fight against TB. Sudhir Tripathi, Additional Chief Secretary, Health; Rakesh Prasad, Deputy Chairman, 20-point Programme; Dr Rakesh Dayal, Nodal Officer, State TB Cell, Jharkhand, Dr. Sumant Mishra, Director, Health Services; Ashutosh Prasad, Additional Director – Mines; Dr Rakesh Dayal, Nodal Officer, State TB Cell; Mr. Inderjeet Banerjee from Medanta and was moderated by Dr. Ramya Anantha krishnan, Executive Director, REACH.