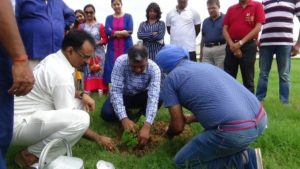 The Rotary Club Chas is on 'green' drive to increase green cover in the periphery areas of Chas.
On this move over hundreds of saplings were planted in the premises of Delhi Public School on Wednesday; the students have also participated enthusiastically.
Speaking on the occasion Manjit Singh, the Chairman of the project for tree plantation said, trees are the protector of life on earth; hence it is the responsibility of every citizen to plant trees as much as possible.
The Chief Guest, Dr. Hemlata S. Mohan said that the plants are the greatest gift of nature. "Without plants, there can be no human life, their importance is uncountable," she added.
Besides others, Deepak Jhajaria, President and Chanpreet Singh, Secretary of Rotary Club Chas, Dr. Hemlata S. Mohan Director and Principal of DPS Bokaro, President Dr. Radhakrishanan of Sahodaya School, N Muralidharan, Pro Vice Chairman, DPS Chas, Suresh Agrawal, Secretary D S Memorial Society including other were participated in the drive.
All the members of the Rotary Club of Chas expressed their willingness to conduct more programmes in the future and vowed to plant more trees.