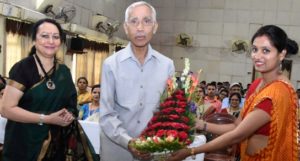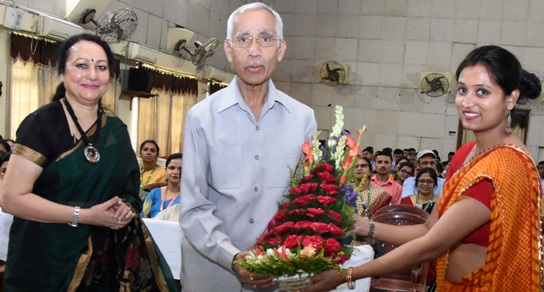 Teaching is the noblest profession in the world, teachers must enjoy their profession and feel proud of being a teacher, said Ashok Ganguly, renowned Educationist and Former Chairman of Central Board of Secondary Education (CBSE).
He urged the teachers to break the stereotypes and develop love, respect and co-operation amongst all instead of accusing, damaging and complaining. "Self-motivation is essential as it leads to self-development. The teachers must read, write, run, shout and laugh a lot to master perfection", he said. He pointed that if a teacher cares his/her children well, they will fare well in their lives. He felt the need of developing ownership for themselves and suggested teamwork and passion for the same. He also narrated about six life-skills including- 'Mind your body', 'Mind your Food, 'Mind your Sleep', 'Mind your mind', ''Mind your Emotion' and 'Mind your Soul' for being successful.
He urged everyone to boil 'ego', evaporate 'worries', and dilute 'sorrows', filter mistakes to remain happy. He also pointed that the attitude needs to be reframed.
Stating that teaching is both art and science, Ganguly advised teachers to give students the opportunity to imagine in the classroom and urged that teaching should not be limited to content and delivery only.
To equip and create awareness in teachers and value the life as a teacher, Sahodaya School Complex, Bokaro organised an orientation programme on 'Cherish your life as a Teacher' here at DPS, Bokaro on Wednesday. Ganguly was the resource person of the orientation programme.
Addressing the workshop, Director and Principal of DPS Bokaro, Dr. Hemlata S. Mohan said that teaching is one profession that creates other professions and remarked that teaching gives satisfaction.
She urged the teachers to take up the knowledge and wisdom imparted in the programme. "To make the teaching interesting and meaningful, the teachers must update themselves with the changing environment to equip for the current trends", she remarked.
She appealed to the teachers to create an encouraging atmosphere where children are stimulated to strive ahead in their field of interest. Principals and teachers from various schools of Sahodaya School Complex, N Murlidharan, Pro-Vice Chairman, DPS, Chas, Vice Principal, Pravin Kumar Sharma, Headmistresses P Shailaja Jayakumar, Manisha Tiwari, Headmaster, Anjani Bhushan were present in the orientation programme.