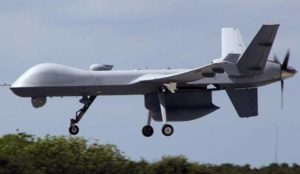 United State has approved the sale of 22 predator Guardian drones to India government ahead of Prime Minister Narendra Modi's maiden visit to Washington for his meeting with President Donald Trump.
According to the media report, "this was communicated to the Indian government and the manufacturer by the State Department on Wednesday; the deal is estimated to be worth $2-3 billion".
The Indian Navy had made the request for this intelligence, surveillance and reconnaissance (ISR) platform last year.
On two-day visits, Modi is expected to arrive in the US on Friday; will meet Trump in a set of one-on-one meetings on June 26 at the White House. This will the first meeting for the leaders who have spoken multiple times on the phone, starting the morning after Trump's stunning electoral victory in November 2016.
Meanwhile, officials declined to comment, an official announcement is expected soon.