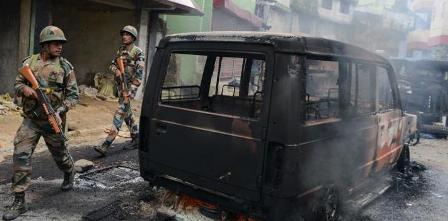 At least four people were allegedly killed in police firing and a security cop was critically injured after an agitation turned violent by Gorkha Jana Mukti Morcha (GJMM) for a separate Gorkha state at Darjeeling on Saturday.
Chief minister Mamata Banerjee denied that police fired on protesters but did not say how they died. The Gorkha Janmukti Morcha (GJM), which rules the semi-autonomous Gorkhaland Territorial Administration, said four of its supporters were killed in Darjeeling's Singamari, where the party's supporters attacked security forces with bricks and bottles, in violence.
The violence erupted two days after West Bengal Chief Minister ordered an inquiry into the alleged financial irregularities in the GJMM-controlled Gorkhaland Territorial Administration. It began as a sit-in demonstration but within an hour, GJMM supporters began pelting stones at the police and also set fire to a police booth at Bhanu Bhawan in Darjeeling. The army has now been deployed, said an official.
"CM Banerjee along with her Cabinet ministers came to Darjeeling's Raj Bhavan and held a Cabinet meeting there. The clash broke out near the place where the CM and her ministers are staying", said an eyewitness.
"Around 20 cops including DIG Rakesh Yadav and three women cops were injured in a clash with GJMM supporters; the protestors turned violent and tried to break the police barricades by pelting stones. The police also lobbed tear gas shells at the mob and some cops even pelted stones", added the eyewitness.
Meanwhile, Banarjee said, Police did not open fire; she blamed the GJMM of having links with militant outfits based in the Northeast States as well with foreign countries.
"There is a terrorist brain behind this hooliganism and vandalism, We have got clues that this has terrorist connections", she added.