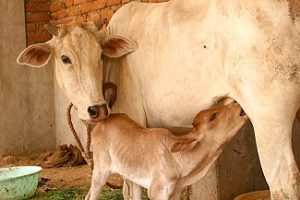 At lest 12,000 cows in Jharkhand has tagged with Aadhaar-like 12-digit unique identification (UID) number to prevent illegal transportation of cattle, improve their milk yield and monitor their health, officials said, amid a nationwide debate on cow vigilantism.
The Centre told the Supreme Court on Monday that it will soon approve tamper-proof identity tags for all cattle in the country that will document a range of data, including a unique number and the type of their horn and tail, as part of efforts to prevent illegal transportation of cattle and livestock to Bangladesh.
Jharkhand State Implement Agency for Cattle and Buffalo (JSIACB), a wing of the government of India, has been working on a pilot project to tag its cattle with Aadhaar-like details in eight districts — Ranchi, Hazaribagh, Dhanbad, Bokaro, Jamshedpur, Deoghar, Giridih and Lohardaga — much before the Centre's proposal.