The horrifyingly dangerous game has been linked to at least 130 teen deaths across Russia and police in the UK have now started warning parents about the challenge.
Maneka Gandhi Asks Centre To Remove 'Blue Whale' Suicide Game From Social Media
The Blue Whale game or Blue Whale Challenge is believed to be a suicide game wherein a group of administrators or a certain curator gives a participant a task to complete daily — for a period of 50 days — the final of which is the participant committing suicide. Participants are expected to share photos of the challenges/tasks completed by them.
These daily tasks start off easy — such as listening to certain genres of music, waking up at odd hours, watching a horror movie, among others, and then slowly escalate to carving out shapes on one's skin, self-mutilation and eventually suicide.
There is still uncertainty over how a participant plays the game. While some say the user has to install some app on their smart phone, others say it's via social media platforms such as Instagram and Facebook where the administrators get in touch with the participant after those interested throw out postings on social media asking for a "curator". A number of different hashtags— #bluewhalechallenge, #curatorfindme, #i_am_whale — act as signals for the anonymous curators.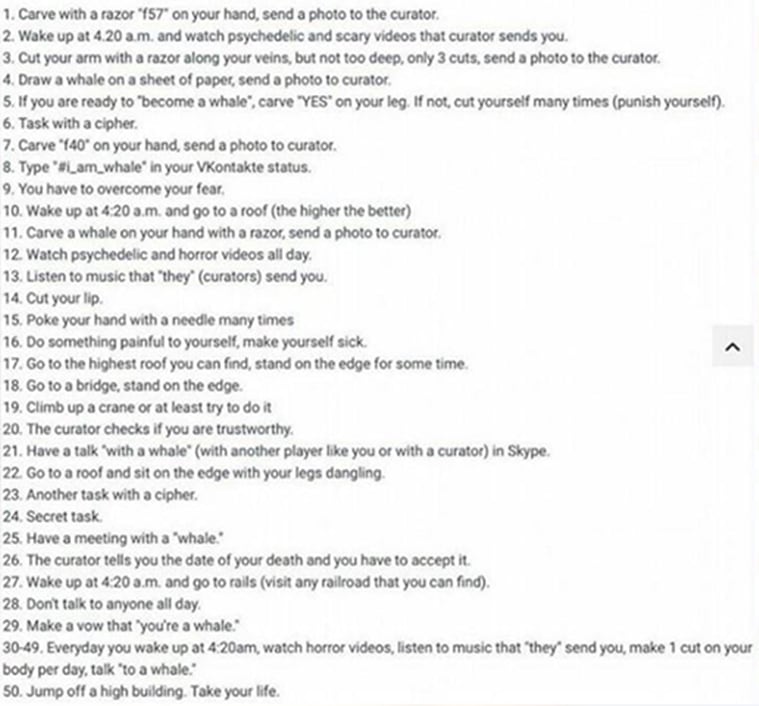 It must be noted, however, that there still is no confirmation of the existence of the game, and suicides linked to it are from personal accounts of families/friends of those deceased who claim they have seen their loved ones performing tasks. While reports of suicides linked to the game have surfaced across the globe, authorities claim that the origin appears to be in Russia, which has reportedly seen about 130 related deaths and at least two arrests.
Schools as well as police officials in Europe and America have begun issuing advisories to parents urging them to be vigilant and to keep an eye out on what their children are sharing on their social media accounts.
Indian boy becomes latest victim of Blue Whale suicide game
An Indian teenager has supposedly committed suicide after playing the online Blue Whale game that goads young people into killing themselves. Ankan Dey, 14, from the town of Anandpur, West Bengal State, India, was found suffocated by a plastic bag in his bathroom.
He was discovered by his family who grew suspicious when he did not come out after his bath.
Ankan's friends told police he had been playing the Blue Whale game online.
The worrying craze sees teenagers pressured into completing 50 self-destructive challenges – the final being committing suicide.
Ankan was reported to be in Class 10 at a local school in West Midnapore district's Anandpur town.
A spokesperson from his school said: 'The boy was very restless, and admitted in front of his parents that he was into Blue Whale online gaming.
'He also told that his friends in school told him about the game.'
Gopinath Dey, Ankan's father, told local media: 'He returned from school on Saturday and sat in front of the computer.
'When his mother, Sampa, called him for lunch, he said he will first have bath.
'When he did not emerge from the bathroom for quite some time, we broke open the door and found him lying on the floor motionless.
'We rushed him to the hospital where he was declared dead.'
Police are investigating the claims that Ankan was playing the worrying game.
Last month, another teenage boy, Manpreet Sahans, committed suicide after jumping off a building in Mumbai.
He reportedly jumped after playing the Blue Whale game.
The game originated in Russia and has seen more than 130 teenagers die.
In the game an online social media group encourages people to take part in increasingly dangerous and harmful dares that culminate in an instruction to kill themselves.
A group administrator assigns daily 'tasks' to members, which they have to complete for 50 days.
The 'tasks' include self-harming and watching horror films, gradually getting more extreme as the game goes on.
One of the tasks was reportedly for the player to carve a large blue whale design into their own skin.
On the 50th day, the manipulators behind the game reportedly instruct the youngsters to commit suicide.
CT- Internet