by Ashis Sinha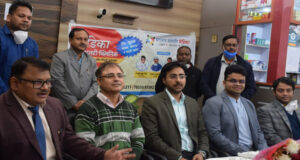 Bokaro: Residents of Bokaro can now get access to advanced medical healthcare facilities in the city. In association with Wellmark Hospital, Bokaro Steel City, Bhagwan Mahavir Medica Superspecialty Hospital, Ranchi started OPD, an online consultancy and Emergency Management service for the patients at Bokaro.
Specialist doctors from Bhagwan Mahavir Medica Hospital will be available for consultation and treatment on the first and third Friday of every month, informed Dr Satish Kumar, Chairman of Wellmark Hospital.
Dr Anand Srivastava, Consultant, Medica Hospital, said that to provide 'expert consultation' to the patients in and around Bokaro, the Wellmark Hospital will run super-specialty clinics from 10 am to 2 pm on the first and third Fridays of every month.
Nephrologist Dr Pankaj Kumar Mishra, Oncologist Dr Gunjesh Kumar Singh, Gastroenterologist Dr Antriksh Kumar and Urologist Dr Kumar Mrigank would be available for consultation in this clinic.
Along with this, Dr. Satish Kumar (Chairman Wellmark Hospital), Anil Kumar (AVP Medic Hospital), and Arvind (Manager, Wellmark Hospital) told, "in association with Mahavir Medica Hospital, we will provide such quality and latest medical health facilities in every other super specialty branch.
On Friday, the Wellmark Hospital hosted a free medical checkup camp where more than 200 people with different ailments were examined and given advice from medical professionals.