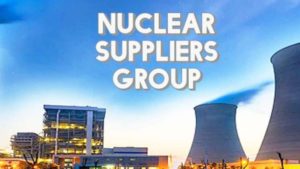 The US officials say it is because of the Chinese resistance that India could not become a member of NSG, where all decisions are taken on the basis of consensus.
"The (US) President (Barack Obama) has been very clear and unequivocal that he believes that India has met the criteria for NSG and that the United States supports India's entry that India is ready and India should be brought into the NSG," she said.
"We worked very closely with India to support India's application into the NSG, but we also recognise that there continue to be some concerns, some reservations that some of the members of the NSG have expressed that need to be worked through," she said.
"We believe we have made substantial progress on that and as we hand the baton over to the next administration the path forward will be found for that. Clearly there is one outlier that needs to be addressed and that is China. As we move through all the other elements of the NSG membership, I think, we're on a good path forward," Biswal said.
So what remains is to be able to have a very clear understanding on what is the basis of China's reservations and to try to work through those. So that will be something that would move on to the next administration to carry forward, she said in response to a question.
"But this is something that the President himself has personally engaged on, the Secretary (of State), (National Security Advisor), Ambassador (Susan) Rice and down the line this has been an area of intense effort by this administration," Biswal said.
While India not becoming a NSG member is disappointing, Biswal said the Obama Administration is "very very gratified to see India's entry into the Missile Technology Control Regime (MTCR)".
China is advocating a two-step "non-discriminatory" approach for admission of countries who have not signed nuclear-Non Proliferation Treaty (NPT) in the NSG.
As per the new stand announced by Beijing in November, it first wants to find a solution that is applicable to the admission of all non-NPT members followed by discussions to admit specific non-NPT member.
China's stand for non-discriminatory criteria is regarded significant as Pakistan, a close ally of Beijing too has applied for the NSG membership along with India.
CT-INET