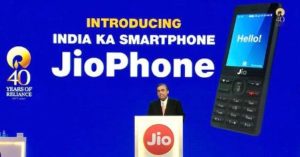 Reliance Jio on Friday announced the launch of its 4G feature phone- JioPhone. The JioPhone (intelligent smartphone) will be available for free but buyers will have to deposit a fee of Rs 1500 which will be refundable after three years on returning the phone.
"Today, I am delighted to announce that JioPhone which will be available at Rs Zero to all", said Mukesh Ambani. "A JioPhone user can use the JioPhone for 36 months, and can get a full refund of the security deposit of Rs 1,500 by returning the used JioPhone. Net-net, you pay nothing for the JioPhone," he added.
JioPhone will be available for beta testing this 15th August, while pre booking will start from 24th August; physically it will available from September this year.
The phone comes with – Alpha numeric keypad, 512 MB RAM, 4 GB Memory, 2.4″ QVGA display, FM radio, Torch light, Headphone jack, SD card slot, Battery with charger,  Jio apps, Microphone and speaker including other intelligent features.
He said that the phone will be made in India from the last quarter of this year. "JioPhone to be most intelligent, affordable phone in the world — a 4G LTE phone supporting all 24 Indian languages," he added.
The phone was launched at the 40th Annual General Meet of RIL. Mukesh Ambani used the occasion to introduce his twin children, Akash and Isha, who presented the phone features that include calls and text messaging on voice command, Internet surfing and cable to connect the device to TV to view content, including videos. Along with JioPhone Ambani also announced its cable TV device.