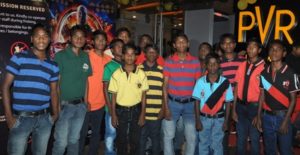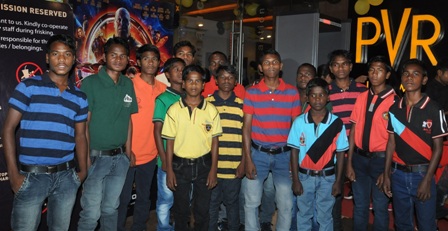 Junior Tarzans (Birhor children) enjoyed and rejoiced as they watched 'Hichki'- an inspiration film in PVR at Bokaro Mall yesterday.
About 18 Birhor children have seen the film at PVR; the show was organised under the Corporate Social Responsibility (CSR) of Bokaro Steel Plant.
The film is a story about a woman who turns her most daunting weakness into her biggest strength. Naina Mathur (Rani Mukerji) is an aspiring teacher who suffers from Tourette Syndrome.
After several interviews and numerous rejections, she lands her dream job as a full-time teacher in one of the most elite schools in the city.
However, she soon realizes that the class she has been assigned comprises of defiant and impish students who can't seem to keep out of trouble.
Despite a few initial hiccups, Naina must do whatever she can to ensure that her students realize their true potential, and defy all the odds against them.
This is truly an inspiring story, said Sahdeo Birhor he was very much excited after seeing the movie.
Far from the jungle life children for Birhor community (a primitive tribe on the verge of extinction) are being nurtured in urban culture and educated under Gyan Jyoti Yojana— CSR activity of Bokaro Steel Plant (BSL) at Bokaro.
Aimed to provide more opportunities to the Birhor kids so that they can be a part of the mainstream BSL management recently adopted new batch of Birhor kids.
The responsibility of the children, starting from their food, accommodation to education is borne by the BSL management", said a PR official.
"The motive behind adoption is to provide them with the better educational environment and urban culture so that they become the inspiration for others in their community", he added.