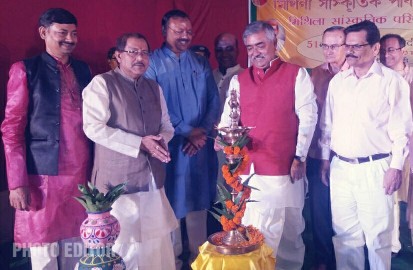 A grand-gala Programme concluded here at Mitihila Academy marking the 51st Vidyapati Smriti Parv Samaroh. The highlight of the programme was the gathering of artists from the Mitila Parishad and across the country.
The two-day programme was inaugurated by Vinod Narayan Jha, Minister for PHED, Bihar along with the Chief Guest of the day P K Singh, CEO, BSL. The Programme witnessed mesmerising cultural performances from artists including dance, song and drama in Maitili language. The programme also saw the presence of local MLA, Biranchi Narayan along with S.K.Singh, ED(Works), BSL.
During the inauguration Vinod Narayan expressed his happiness and congratulated Mithila Parishad for conducting such a fabulous programme. He said, the present government has done a good job by giving Mithila Language as the second language of the state. Speaking on the occasion P K Singh talked on the importance of this Samharoh and appreciated the contributions of Vidyapati. He urged the participants to keep the wisdom of Vidyapati alive. Biranchi Narayan said that there is no comparison of the wisdom that Vidyapati possessed.
General Secretary Rajendra Kumar read out the Annual Report of the Parishad while the welcome speech was given by the president of the Parishad, K K Thakur. Arun Pathak was the Programme Director of the event.
The programme began with expressive dance performance on a devotional song 'Jai Jai Bhairavi', performed by Prachi Priya and Akshita Pathak followed by songs and drama performances Members of Mithila Mahila Samiti including Amita Jha, Anju Jha, Kiran Mishra, Poonam Mishra, Priti Rai, Jayanti Pathak, Chanda Jha, Poonam Singh, Asha Jha and Bharati Jha presented a heart touching group song 'Ram Lakhan San Pahun Jinkar'. Among artists that performed included Arun Pathak, Amar Anand, Sneha Jha, Rajesh Thakur, Babli Chaudhary, Ranjana Rai, Pooja Jha and others who made the programme made it a grand success.
A special drama was also performed 'IJOTH' with the theme of 'Problems associated with Inter-Caste Marriage', the drama director Sambhu Jha, said, that the idea behind the drama was to aware the audience on the negative impact of inter-caste marriage that has become frequent these days. The drama was performed by Sunil Mohan Thakur, Vivekanand Jha, Suman Mishra, Amarjit Chaudhary, Anjali Chaudhari, Bhrigunandan Thakur and Kamlesh Mishra.