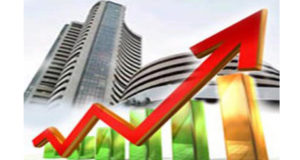 JNS: As the all exit polls indicated more than an expected mandate for the NDA govt led by PM Narendra Modi The benchmark indexes opened sharply at higher levels and at the time of filing of this report, the BSE Sensex was up 1096 points (2.89%) at 39027.25 points.
The Sensex opened at 38901 and had touched the day's high of 39064 before correcting on profit booking at higher levels. All sectoral indicators had also reported handsome gains. The BSE S&P Bharat 22 index was up 4.04%, BSE S&P 100 index was up 2.91%.
Similarly, the NSE Nifty also surged and was trading at 11733.75, up326.60 or (2.86%). Out of Nifty 50 stocks, 45 were travelling with gains. This bullish trend is expected to continue till the announcement of the Lok Sabha elections or beyond.
"NDA 2 will speed up economic progress in the year to 2024. Expect large growth from agricultural, industrial, infrastructure sectors," said Deven Choksey, CEO and MD KR Choksey Shares and Securities.
"Consumption boom from rural India will drive FMCG, Auto stocks. Beaten down stocks in financials, insurance are my favorite for investment," he said. "Post 23rd March, the market would focus back on the global macros and implications on commodities and currencies. Continued upward move till results are out is given. Nifty may trade in 11250-11800 range," Choksey said.